Hindi Poem on Father Son - Motivation from parents
Hindi poem on father son that motivates you to always excel in life. Hindi kavita pita putra. Fathers Day hindi poem. Inspirational Hindi life poems.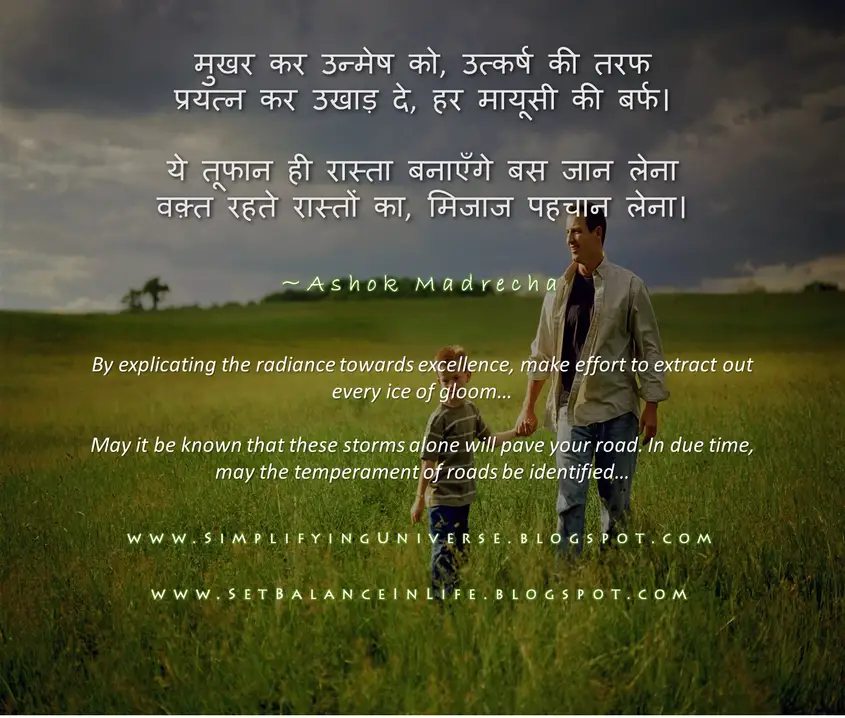 At any point in life, a venerable advice does wonders. One must always stay vigilant of the company we keep and and how far we need to travel to reach our destination yet. Following is a Hindi poem on father son by CA Ashok Madrecha, father of Manas Madrecha, that urges us to be aware of humans and make our best efforts, by staying focused, to attain excellence.
Hindi poem on father son
पिता का पुत्र को संदेश
मुखर कर उन्मेष को, उत्कर्ष की तरफ। प्रयत्न कर उखाड़ दे, हर मायूसी की बर्फ॥
ये तूफान ही रास्ता बनाएँगे , बस जान लेना।
वक़्त रहते रास्तों का, मिजाज पहचान लेना॥
दूर है मधुमास अभी, बहुत बीहड़ में चलना बाकी।
उलफत में मत रहना, ये शुरुआत की है झांकी ॥
दो दो हाथ मुश्किलों से होना बहुत आम होगा।
इंसानों की दुनियाँ में, ये वाकया सुबह शाम होगा।
लक्ष्य पे नजर रखना दिन में भी कदम बहकते है।
जरा सम्भलना, हर गली मोहल्लों में इंसान रहते हैं ॥
आकाश नापना है तो, इरादों में जोश होना चाहिए।
दूर कितनी है मंजिल, इसका भी होश होना चाहिए॥
तान लो सुनहरे वितान, वक़्त तुम्हे इंद्रधनुषी रंग दे।
नया सवेरा हर सुबह, तुम्हे चिर आशा की उमंग दे।
© Pita Putra Par Hindi Kavita by Ashok MadrechaOriginal poem is available on his blog "Set Balance In Life"
English Transliteration
Pitaa Ka Putra Ko Sandesh
Mukhar kar unmesh ko , utkarsh ki taraf,
Prayatna kar ukhaad de, har maayusi ki baraf…
Ye toofan hi raasta banaayenge, bas jaan lenaa,
Waqt rehte raasto ka mijaaz pehchaan lenaa…
Door hain madhumaas abhi, bahut beehad hain chalna baaki ,
Ulfat mein mat rehna, ye shuruaat ki hain jhaanki…
Do do haath mushkilo se, honaa bahut aam hoga,
Insaano ki duniyaa mein, ye vaaykaa subah shaam hogaa…
Lakshya pe nazar rakhna, din mein bhi kadam behekte hain ,
Zara sambhalnaa, har gali mohallo mein insaan rehte hain…
Aakash naapna hain toh, iraado mein josh honaa chahiye ,
Door kitni hain manzil, iska bhi hosh honaa chahiye…
Taan lo sunhare vitaan, waqt tumhe indra-dhanushi rang de,
Naya savera har subah, tumhe chir asha ki umang de…
~ CA Ashok Madrecha ki Pita Putra Par Hindi Kavita
English poem on Father Son
A Message from Father to Son
By explicating the radiance towards excellence, make efforts to extract out every ice of gloom…
May it be known that these storms alone will pave your road.
In due time, may the temperament of roads be identified…
Far is the spring; you have to still walk a great span of rugged path.
Do not engross yourself in attachment; this is only a glimpse of the beginning…
It will be every normal to come across difficulties.
In this world of human beings , this episode will occur day and night…
Keep your vision on the target, because the feet may go astray even in daylight.
Be a bit cautious, because human beings reside in every locality…
In order to measure sky, there must be zeal in the intentions.
'How far is the destination?' – Even its awareness must be there…
Spread the golden canopy; may the colors of rainbow be given to you by Time. [May the novel dawn], every day, give you the zest of eternal hope…
The translation is done by Manas Madrecha

Manas Madrecha is an Indian poet, author, and Chartered Accountant based in Mumbai, India.