Yoga and Religion: Is yoga against any religion?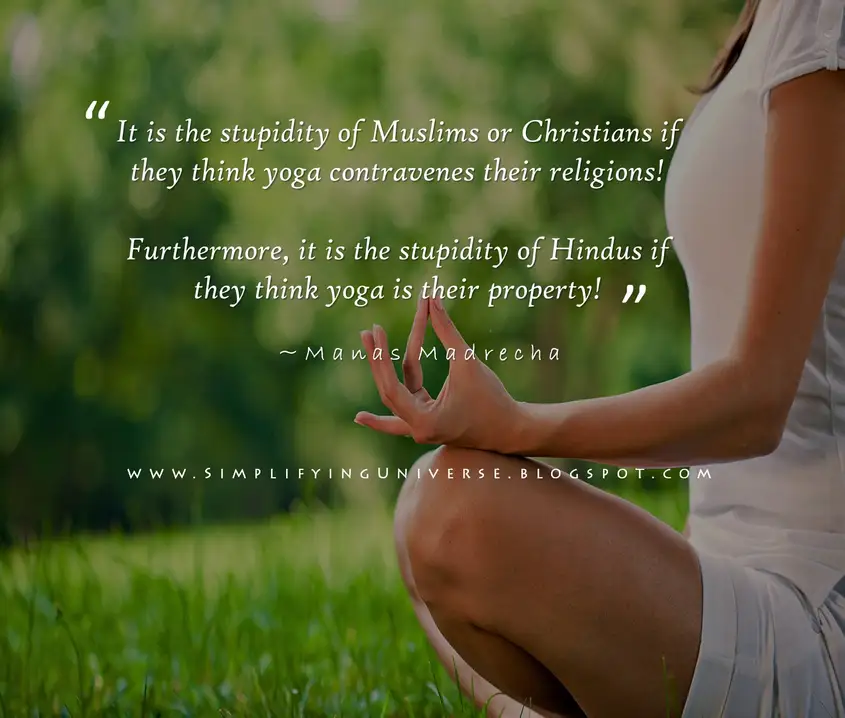 Recently, an abrupt row has been brought into light by the self-proclaimed representatives of certain religions, for Yoga seems anti-religious to them. This debate of "Yoga versus Religion", has gained further momentum, with the International Yoga Day on 21st June coming closer. But, what is the reason behind polarizing the issue on religious terms and that too now? Let's find out!
Yoga controversy
'Yoga', as an exercise, though has attained popularity since few decades only, in countries other than India, 'Yog' has been an ancient way of lifestyle in India. Yet, it is indecipherable that a handful of people are rejecting it, because it is allegedly being associated with Hinduism. But, it cannot be concluded that, behind making a controversy of Yoga, these handful people are at fault.
When Muslims and Christians begin denying Yoga, the blame must not be put on them; rather, the Hindus need to self-evaluate that what went wrong in their conduct, that other people have to oppose a phenomenon that is absolutely for one's greater well-being only!
As I had said earlier on Facebook on 10th June about Yoga,
Why Yoga is opposed?
Instead of conceiving a plan to make the celebration of International Yoga Day a grand success, the prime focus of extremists is on how can they customize the universal Yoga as per their religion. The immediate cause can be that this 21st June is going to be the first time in the history, that the world officially recognizes the magnificence of Indian Yoga, and every religion wants to have his proprietorship over it. However, the background reasons may include the fear among minorities to have an extremist non-secular leader at summit of the Indian government today. Not to mention the selective attacks and atrocities on them, people have started developing a notion that behind every act of the government, lies the hidden motive of saffronization.
But, notwithstanding any concealed intention of the government or any religious god-man, people must outright ignore such baseless opposition, because Yoga is a matter of individuality.
Connection b/w Yoga & Religion
Let us surmise that an identity of a being is three-fold: body, mind and soul.
Religion is related to mind, because it is simply an assumed belief that I belong to a particular religion.
Yoga is related to the body and mind, because it enhances your physical aspects, boosts your immunity, improves your concentration and memory power.
Religion offers guidance on how to live life non-violently, treat others compassionately and possibly, attain salvation. Yoga, if not contradicts, somewhere or the other, accentuates similar objectives.
Conclusion
When we observe keenly, nowhere do we find in Yoga any facet that impugns or champions any specific religion. It is quite obvious that whether you are willing to perform asanas or chant some name or mantra, is entirely in your own domain. Irrespective of government allowing it or religious god-men refuting it, you embrace Yoga, because no government or religion has the right or authority to stop you from becoming healthy. And, if you are already exercising with Yoga, then go ahead. Carry on. I wish you a wonderful life, brimmed with vigour and vitality!
Bhala Ho (Stay Blessed)
© by Manas Madrecha

Manas Madrecha is an Indian poet, author, and Chartered Accountant based in Mumbai, India.