Love is Quicksand - Hindi Poem - प्यार पर हिन्दी कविता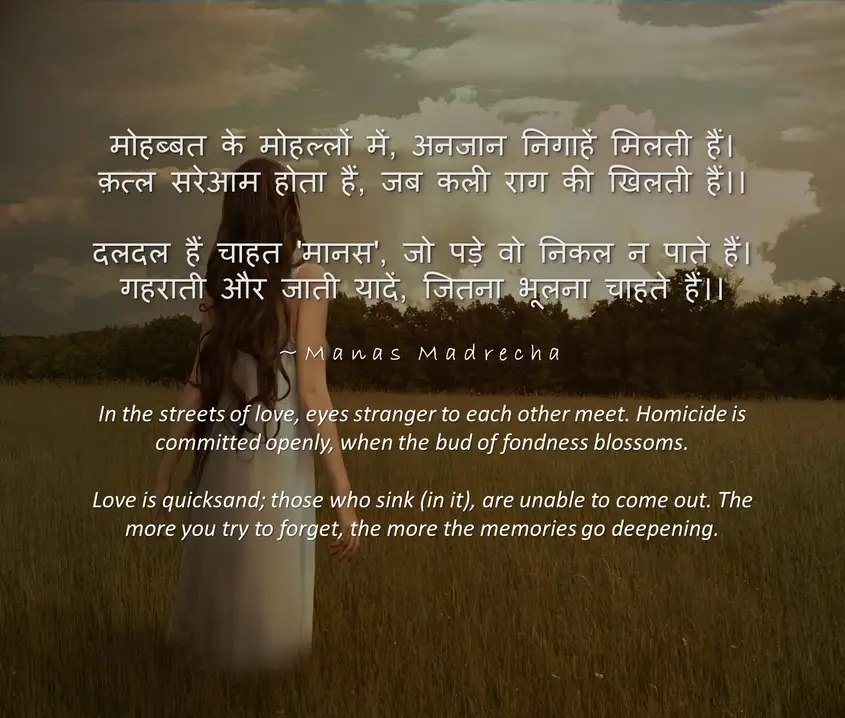 Love is sweet poison. Here is a hindi poem on love by Manas Madrecha, that narrates the aftereffects of relationships and precautions to be taken before falling in love, by reciting what happens when love gets disillusioned.
Original Poem on Love is Quicksand
दलदल है चाहत
मोहब्बत के मोहल्लों में, अनजान निगाहें मिलती हैं।
क़त्ल सरेआम होता हैं, जब कली राग की खिलती हैं।।
नयन-मिलन, दिलो का मेल, ततः जगे मिलने की प्यास।
बुझे 'मानस' पर कभी नहीं, प्रेमी यद्यपि आएँ पास।।
जुनूँ चाहत का छाने पर, स्वर्ग समान लगता हैं साथ।
चार दिन की चाँदनी पर, फिर अमावस की काली रात।
खींच देते हैं स्नेह-माला, जब शंका और जलन मिल के।
विश्वास के मोती बिखरने पर, बिखर जाते टुकड़े दिल के।।
चीख़ उठे ह्रदय 'मानस', जब आसक्ति की सज़ा सहे।
तन्हा कराहे पीड़ा में, विरह में कैसे ज़िंदा रहे।।
प्रेम-चादर ओढ़ सके जितना, फैलाना 'मानस' उतने ही पैर।
खोया होश जोश में गर, नज़ाकत-ए-दिल की फिर क्या खैर।।
करने खता-ए-इश्क़ 'मानस', पहले ये बात जान लेना।
समझना किसी को जान अपनी, हूबहू अपनी ही जान लेना।।
दलदल हैं चाहत 'मानस', जो पड़े वो निकल न पाते हैं।
गहराती और जाती यादें, जितना भूलना चाहते हैं।।
© Poem by मानस मादरेचा
Transliteration into English
Daldal hain Chahat
Mohabbat ke mohallo mein, anjaan nigaahe milti hain,
Katla sareaam hota hain, jab kali raag ki khilti hain…
Nayan-milan, dilo ka mel, tatah jage milne ki pyaas,
Bujhe 'Manas' par kabhi nahi, premi yadyapi aaye pass…
Junoon chahat ka chaane par, swarg samaan lagta hain saath,
Chaar din ki chandni par, fir amavaas ki kaali raat…
Kheech dete hain sneha-maala, jab shanka aur jalan mil ke,
Vishwas ke moti bikharne par, bikhar jaate hain tukde dil ke…
Cheekh uthe hriday 'Manas', jab aasakti ki sazaa sahe,
Tanhaa karaahe peeda mein, virah mein kaise zindaa rahe…
Prem-chaadar old sake jitnaa, failaana 'Manas' utne hi pair,
Khoya hosh josh mein gar, nazaakat-e-dil ki fir kya khair…
Karne khataa-e-ishq 'Manas', pehle yeh baat jaan lenaa,
Samjhnaa kisi ko jaan apni, hubahu apni hi jaan lenaa…
Daldal hain chahat 'Manas', jo pade vo nikal na paate hain,
Gehraati aur jaati yaade, jitna bhoolna chahte hain…
© Poem by Manas Madrecha
Translation in English
Love is Quicksand
In the streets of love, eyes stranger to each other meet. Homicide is committed openly, when the bud of fondness blossoms.
The eyes unite, the hearts join, and then awakes the thirst of meeting. But it never quenches, even if the lover comes nigh.
When the obsession of love spreads on, the togetherness seems like heaven. But, it is moonlight for a couple of days, and then comes the moonless night.
When suspicion and jealousy pull apart the garland of love, on crumbling of the pearls of trust, the pieces of heart gets crumbled.
The heart screams out, when it endures the punishment of attachment. Alone, it groans in pain that how will it be able to survive in separation!
As much you can cover with the sheet of love, spread your legs that much only. If the conscience gets lost in passion, then what is the well being of the heart's delicacy!
Before committing the mistake of love, do know this thing. To know someone to be your "life", is identical to take away your own "life".
Love is quicksand; those who sink (in it), are unable to come out. The more you try to forget, the more the memories go deepening.
© Poem by Manas Madrecha

Manas Madrecha is an Indian poet, author, and Chartered Accountant based in Mumbai, India.