I Fell In Love With You - Love Story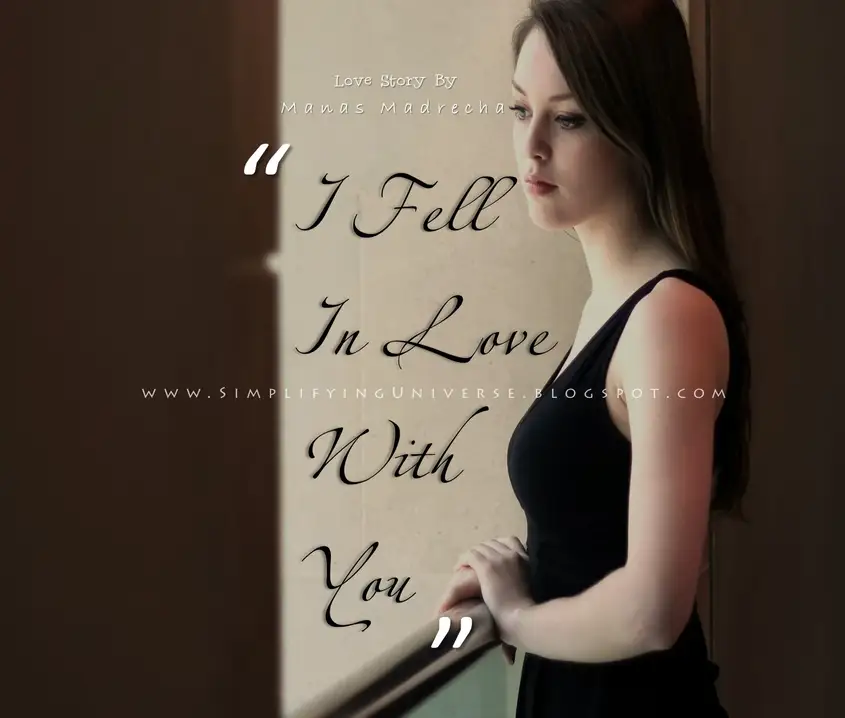 As I opened the window, the wet gush of wind soaked me, and I ceded myself to the drizzling shower that entered my bedroom lazily. Absent mindedly I allowed the cool droplets to fall on my face, as I closed my eyes and the mind involuntarily drifted to your thoughts in the presence of the rain that had brought us together.
Never did I have any idea of coming across a person that will become an inseparable part of my life later, when I was fumbling with my broken umbrella to open up, as the clouds started to cry suddenly one rainy day . But, call it fortune or fate, you, despite being a stranger, offered me your umbrella's shelter and I moved in with hesitation. Little did I know then, how glad you were on finally getting, though unexpectedly, a chance to talk to your college crush.
Our first meeting did make a good impression. Your kind eyes, beaming smile, composed countenance and caring nature, along with our extemporaneous talks did help the capricious rain to sow the seed of acquaintance, that was going to go further beyond the confinements of friendship in short span of time.
I fell in love with you. As our companionship advanced into marriage because we chose to meet, not by chance, but willingly, again and again, you became my undisclosed diary in which I could pour in my deepest secrets, fears and passions with relief. Also the way you etched your ambitions, doubts, tranquility and confidence on my heart, the engravings didn't fade away, even after it shattered into a million pieces on your departure.
Oh yes, you left me. But how could I blame you? But if not you, then whose fault was it and on whom do vent my justified anger? But, in your own words, the reason was "I have no choice!" Death was too ruthless. Neither did It consider the efflorescence of our togetherness, nor your denial to go with It, when It chose to leave you with no choice, and me, with no You.
The rain had started pouring heavily. I opened my eyes and bent down to close the window shut, but continued to linger there itself, gazing into the infinite expanse of the vast grey sky.
In the incessant search to seek solace, your memories did provide the shelter that you had provided when we first me. I had moved on with my life, as I kept on reassuring myself, but why hadn't you? You still continued to occupy an irreplaceable place in the heart that was and will forever be yours.
"Hey, Mom! Come fast! She's waiting!"
"Oh yes, I'm coming, my dear!" I replied, coming out of my nostalgia.
As I was about to turn slowly to leave my bedroom, I noticed the rain had ebbed. I sighed and began walking towards the hall.
My eyes fell on your happy face and unlike the rain that waned, I smiled with undying love at your portrait on the wall. Wiping my tears of joy, I joined in the celebrations of my lovely granddaughter's 18th birthday who was engrossed in seeking blessings by praying to her late grandfather's same portrait.
© Story by Manas Madrecha

Manas Madrecha is an Indian poet, author, and Chartered Accountant based in Mumbai, India.