When Someone Mocks You - Hindi Poem on Criticism
How to deal with criticism positively? Hindi Poem on how to deal with those who talk behing your back.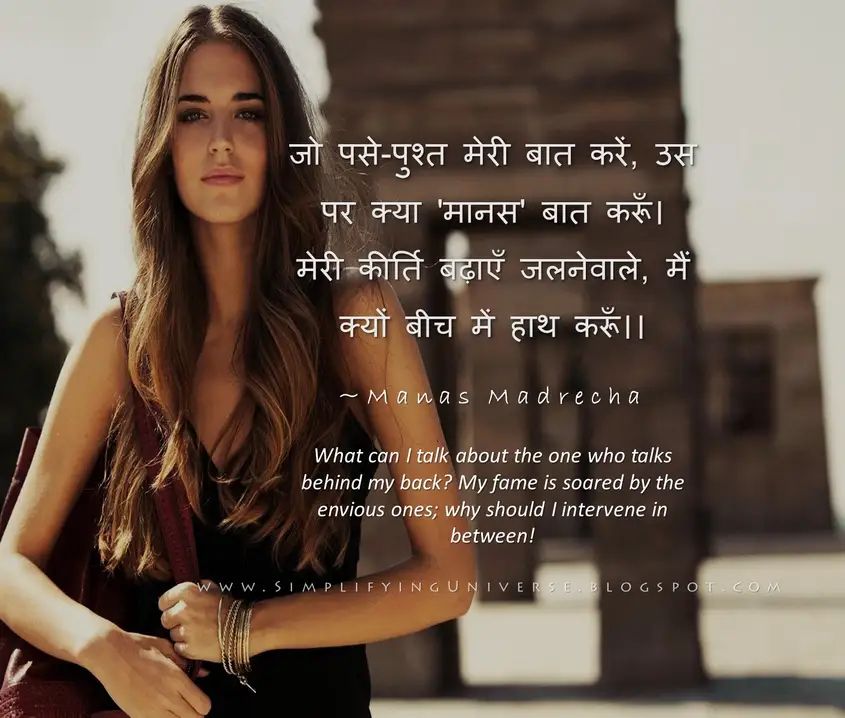 How to deal with criticism positively?
This Hindi poem on criticism by Manas Madrecha seeks to answer the question: What to do about the gossip-mongers who spread rumors associated with you? We cannot stifle the levity of remarks hurled upon us, but we can always neglect the venomous talks, disregard the deriding mockery and turn a deaf ear to contemptuous ridicule, because fomenting hatred or falling in an abyss of depression is never a rational reaction.
Following is a Hindi poem on Criticism by Manas Madrecha that suggests that the best course of action is to relish the knowledge of how those shallow tattlers or backbiters are making you popular and to imbibe any underlying constructiveness of the criticism, with a benevolent heart.
Hindi poem on Criticism
जब कोई ताने मारें
जो पसे-पुश्त मेरी बात करें, उस पर क्या 'मानस' बात करूँ।
मेरी कीर्ति बढ़ाएँ जलनेवाले, मैं क्यों बीच में हाथ करूँ।।
अफवाओं को बहने दो, 'मानस' चर्चें रहने दो।
मेरे नएँ सत्य आएँ बाज़ार, जो कहते हैं कहने दो।।
आगबबूला मत हो 'मानस', टीका टिप्पणी भ्रान्ति।
सुनी चीज़ हर सत्य नहीं, त्याग मत स्व-शांति।।
जब कोई ताने मारें, मुस्का 'मानस' खुश होकर।
फल से लबालब पेड़ पर, ही फेकें जाते पत्थर।।
ज़मानें का क्या हैं 'मानस', कभी संग तो कभी खिलाफ़।
हर द्वेषी को करके माफ़, रख उर निर्मल उज्जवल साफ़।।
© मानस मादरेचा की कविता
English Transliteration
Jab Koi Taane Maaren
Jo pase-pusht meri baat kare, us par kya 'Manas' baat karu,
Meri kirti badhaaye jalnewaale, main kyu beech haath karu…
Afwaao ko behne do, 'Manas' charche rehne do,
Mere nayen satya aaye baazaar, jo kehte hain kehne do…
Aagbabulaa mat ho 'Manas', teeka tippani bhraanti,
Suni chiz har satya nahi, tyaag mat swa-shanti…
Jab koi maare taane, muskaa 'Manas' khush hokar,
Fal se labaalab ped par, hi feke jaate patthar…
Zamaane ka kya hain 'Manas', kabhi sang toh kabhi khilaaf,
Har dweshi ko karke maaf, rakh ur nirmal ujjwal saaf…
© Manas Madrecha ki Kavita
English Translation
When Someone Mocks You Poem
What can I talk about the one who talks behind my back? My fame is soared by the envious ones; why should I intervene in between!
Let some rumors fly; let some of my gossips flow. It seems new truths of mine have come in the market; let them speak what they want to…
Don't get infuriated; the remarks and comments are delusions. Not every thing you hear is true; so don't abandon your inner peace…
When someone mocks you, be happy and grin. It is only at the tree laden with fruits, are the stones thrown…
What's the big deal about society, that at times is with and at times against you! By forgiving every hater, keep the heart pure, glowing and effulgent…
© Poem by Manas Madrecha
Bhala Ho (Stay Blessed)

Manas Madrecha is an Indian poet, author, and Chartered Accountant based in Mumbai, India.