Together - Acid Attack Victim Love Story
Acid Attack Victim Love Story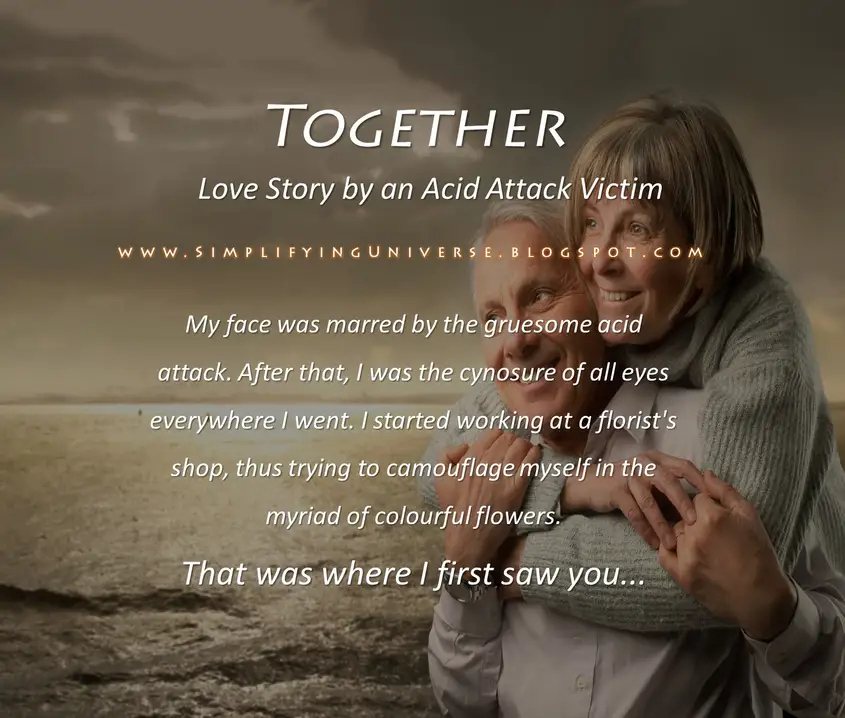 Acid Victim story
Florist
My face was marred by the gruesome acid attack. After that, I was the cynosure of all eyes everywhere I went. I started working at a florist's shop, thus trying to camouflage myself in the myriad of colorful flowers. That was where I first saw you .
You always used to stand against the wall outside the florist's shop and watch me. Pity and disgust were the only things I found for me in people's eyes . I expected the same from yours.
One day, you walked towards me.
Hiding my face behind my scarf, I had asked, "How may I help you, Sir?"
The words that spilled out of your lips were, "May I have the pleasure of being accompanied by the most beautiful woman in the world ?"
Fairy-tale
It seemed like you had jumped right out of a fairy-tale and had come to rescue me. You shielded me from the eyes of the world; you shielded me from the stares that judged me by my disfigured face.
You wanted to marry me, but your family was reluctant. You turned the reluctance of your family into acceptance, thus accepting me the way I was.
You were the one who could wake up to the face of the victim of an acid-attack with a smile. You won me over .
Family
When our son had come home from school and had said, "My friends don't want to come over for my birthday party. They are scared of Ammi . They say that she is a ghost", you had pulled him up in your lap and had said, "Your friends are jealous of your Ammi because they don't have a mother as beautiful as she is." You took a stand for me. It was you and me against the world.
When our daughter-in-law complained about the fact that our grand-daughter was scared of me and had raised a hue and cry in our home, you held your walking stick in one hand, and my hand in the other and we had left the house. You stood by me.
Hospital
And now you lie on the white hospital bed, counting your last breaths, and you manage to ask me in a feeble, wavering voice, "May I have the pleasure of being accompanied by the most beautiful woman in the world?"
I choke back my tears, kiss your palm and mutter a 'Yes'. And together, we look into the eyes of one another, counting our last breaths together , with the staccato beeps from some machine in the room filling the silence up.
Credits
© by Anwesha Guru, from Facebook page: The Anonymous Writer

Manas Madrecha is an Indian poet, author, and Chartered Accountant based in Mumbai, India.