Rakhabandhan 2020 - A Story of Brother and Sister
On the occasion of Raksha Bandhan (Rakhi), a festival celebrated to rekindle love between brother and sister, Manas Madrecha presents a story with drama genre, that spans over decades as the two gets busy with their own lives.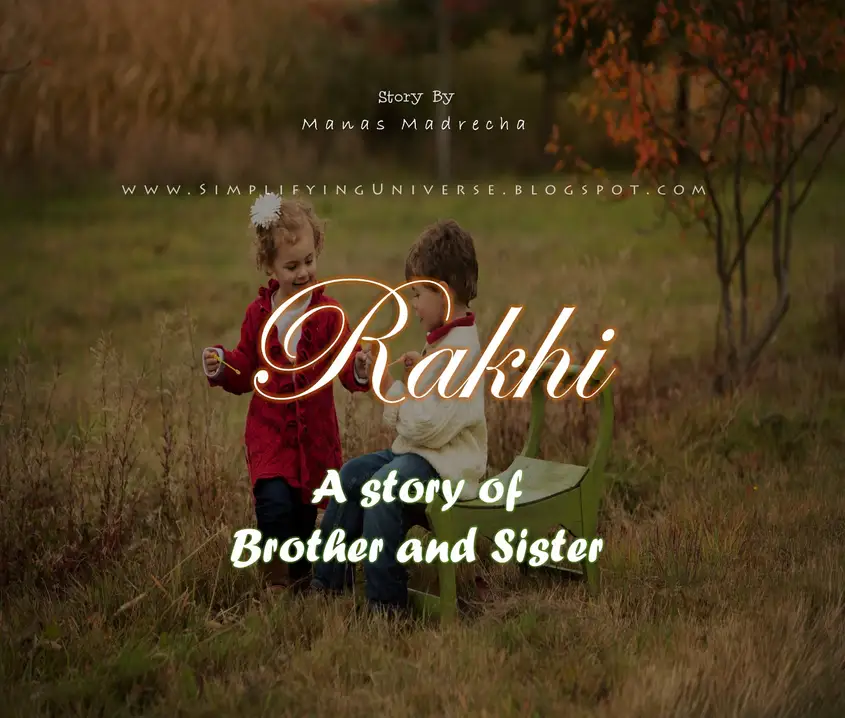 Introduction - Raksha bandhan festival
On the occasion of Raksha Bandhan, a festival celebrated to rekindle innocent love between brother and sister, Manas Madrecha presents a beautiful family drama story that spans over decades as the two gets busy with their own lives.
Rakhi Story on Brother Sister
The fracas in the house was making it difficult for the elder relatives to listen to each other, but who could shout at the chubby little Akash and his younger adorable sister Priya to calm down? Also, no one wanted to meddle themselves in the matters of children. So, they decided to rather enjoy it.
Raksha Bandhan, the festival epitomizing brother-sister love had arrived. But the seven-year old Akash had forgotten to get the five-year old Priya her gift, and the latter had refused to tie his favourite cartoon's rakhi, unless he got her favourite chocolates!
"No brother! I won't listen. You had promised me!"
"Priya, I'm sorry. Now give me my rakhi!"
"I said no! First, you give me my chocolates! I hate you so much."
"Same here. Even I don't want your stupid rakhi then."
Akash frowned at her, and Priya turned her back to him, miffed. The elders laughed boisterously at the cute annoyance of their younger ones. With the case moving nowhere, Grandpa had decided to intervene.
"Priya, my sweetie, do you love me?"
"Of course, Grandpa!" Priya exclaimed with surprise.
"And do you, Akash, my charming boy?"
"No doubt in that, Grandpa!"
"Then, Akash, you'll give your sister her chocolates, as soon as you can tomorrow. And remember that promises are never meant to be broken."
Akash nodded solemnly. Turning to Priya, he continued, "And my dear, I do understand you. But you shouldn't refuse to tie your brother rakhi. Do you know why does a sister tie rakhi?"
"Why, Grandpa? It's because sisters get gifts, isn't it?" asked Priya inquisitively.
"Oh, dear, that's not the real reason. Rakhi binds your brother to love you and safeguard you forever! Don't you two love each other?"
The two kids glared each other for a spilt second. And forgetting and forgiving past follies , Priya tied Akash's rakhi on his wrist, who gave her a tight bear hug in return.
"I love you so much, brother!"
"Even I love you a lot, Priya! And I also promise to love you and safeguard you forever."
"But, first get me my chocolates tomorrow, then make such promises, brother!" Priya guffawed.
Wiping her wet eyes with the drape of her sari, Mom smiled at them.
10 Years Later
"Oh, for heaven's sake, keep that mobile phone aside, brother! It's Raksha Bandhan"
"Yes, my pimply princess" Akash teased Priya.
"Mom," she shouted, "Look, he's again pinpointing at this stupid tiny lump on my face!"
"Oh you two always keep on fighting, and when I come in between, you both get along lovingly and isolate me!" Mom glowered, but her wink ruined the effect.
Priya giggled; Akash chuckled back.
"Okay brother, so let's see what gift you have got for me?"
"Patience, Priya! First at least tie me rakhi. Then you can do check my pimple - oh I mean - my simple gift. I don't think you would like that one-piece you were so longing to have, would you?"
"Really, brother?" Priya leaped with joy. "I love you so much"
"Same here!" Akash stared at his rakhi with affection.
10 Years Later
"Hurry up, Priya, I have a train to catch in an hour. I have got promoted as…"
"…the regional manager of Mumbai!"
"Oh, you remember, don't you?"
"Of course, I do, brother. This is the hundredth time you are telling us!"
A week ago, Akash had received his promotion letter and the arrival of postman had made the house's atmosphere festive even prior to Raksha Bandhan, inflating their parents' chests with pride. But, Priya couldn't help but feel dejected. Not because she was not happy with his brother's promotion, but the uncertainty of when she will see him again after he left for the distant city Mumbai a week later, had gripped her. But like a strong girl, she had been the most loudest to express her joy, at least externally.
"Oh, it seems you are more excited than me!" Akash grinned at her.
Frowning, Priya stuffed a sweet in his mouth, and tied his rakhi. Akash removed a golden chain from his pocket.
"Wow!" cried out the sister, accepting the gift.
Akash touched his parents' feet and hurriedly, with his suitcase in hand, walked towards the door.
He was about to leave, when he turned towards her sister and said, "I'm going to miss you Priya. Will you?"
"Keep dreaming," she said coyly.
A smile shone on both their faces, irrespective of the two hearts screaming in protest of the looming separation that might last for years to come.
10 Years Later
It had been a busy day since morning. The blaring alarm had robbed her off sleep quite early and like each day, she had got herself engrossed in the daily chores. After few hours of the morning chaos, with her husband Shreyas and son Parth off to work and school, quiescence had befell on the house in afternoon, as Priya was left alone. But unlike the house, her mind was not silent.
The calendar hung on the wall lazily and proudly shouted the arrival of Raksha Bandhan tomorrow. But, it did nothing to cheer her up. She had sent her rakhi via courier to her brother at Mumbai, but with no response back from him, nervousness had started to stir in her mind.
She kept on looking at the clock and door restlessly, and flowing with the swirling thoughts, she drifted off to sleep. But, even the dreams didn't put provide any relief.
"Had I put the proper address?" she asked herself.
"Of course, you did," replied her conscience, with a ringing noise.
"But, wait! What if he had moved to some new address?"
Again, the ringing noise echoed, and Priya got up suddenly from her afternoon nap.
"Is anyone at home?" shouted a strange voice beyond the door, again ringing the doorbell
She fumbled with her clothes, and went to open it.
"Postman!" said the old visitor mechanically.
Her joy knew no leaps and bounds. "Thank you so much, uncle!"
Taking the parcel, she went in the kitchen to get him sweets (to the postman's surprise) and after expressing gratitude once again, she closed the door and dropped on the sofa, relieved, while carefully clutching the parcel.
With adrenaline rushing through her body, she tore open the packet and out fell a wrapped box and a letter.
Dearest Priya,
I hope you get my letter on time and don't yell at the postman for the delay. How are you, sis? And how's Shreyas and Parth?

First of all, let me wish my darling sister a very happy Raksha Bandhan, even if she has forgotten her brother, it seems. What happened? Out of sight is out of mind, huh? But, I do remember! Look, what I have got you!
But, thanks to your forgetfulness, maybe this year, I will have no rakhi, for my wrist.

Still with loads of love,

Your best bro in the world,

Akash!
The abrupt ending left Priya numb with shock. But, I didn't forget about you brother! I had sent you the rakhi! Maybe, her premonitions were right. The post department had delayed; or even worse, he might never receive his rakhi. She glanced at the letter once again. Wait? What should I look at? Oh, the parcel! Her sight fell on the wrapped packet lying aside. With trembling hands, she opened it up. Oh my God! You are the best brother in the world! With watery eyes, she put her favourite chocolate in her mouth.
The Next Day
The cacophony of the alarm never failed to wake Priya on time. It had been a sleepless night. Even nothing Shreyas, who usually sounded in a jocular mood, did yesterday to console her could calm her.
"It's not your fault, dear," he had said in serious tone. "Parcels do go astray. Don't blame yourself, if your rakhi didn't reach him."
How ironic it is about relationships that when we do something wrong, we bluntly refuse to accept it; but when the fault isn't ours, the guilt and the desire to love compels us to admit we're wrong. Akash had remembered her favourite gift, and what did she do in return? Albeit unable to tie, she couldn't even give him his deserving rakhi, she thought.
Priya was serving breakfast to her beloved husband and son, who had holiday, when suddenly the doorbell rang.
"Who might it be at this early hour?" she asked.
Shreyas shifted uncomfortably and said, "Why don't you check it yourself?" A slightest smirk on his face didn't go unnoticed by Priya and she cautiously opened the door.
"BROTHER!" she shrieked exuberantly. "H-How? W-why?" she faltered.
"Will you keep questioning me, or let me enter?" he grinned broadly.
"Of course, Of course! You are always welcome!"
"And this is how you invite me? Come on, Priya!" He bent forward and embraced her affectionately.
As soon as he came in, Parth ran from his table to greet his uncle, who ruffled the young one's hair. "You have grown big!"
"What a pleasant surprise, Akash!" Shreyas winked at him.
"Oh, it's good to see you too, Shreyas!"
And then suddenly, looking at Priya's confused expression, both burst into peals of hearty laughter.
"Hey, what's going on here? Am I missing something?"
Akash waved his hand, and showed her her rakhi tied to his wrist. "Oh, you have surely missed me, I can look at your puffy eyes and tell ."
"But… How? I don't get it. Your letter said…"
"You really think you would send me such a loving rakhi and I won't get it?"
"Then, that was…"
"A brilliant idea!" He laughed, "Your husband is an amusing man, sister."
Priya looked at Shreyas reproachfully.
"Actually, it was Parth's idea to play a prank!" Shreyas sniggered.
Priya turned towards her son, who was already at the doorstep. "Mom, I am going down to play!"
"Come back, you naughty little monkey!"
"Oh, come on Priya, its Rakhi! Give him a break. See, Akash has come to meet you!"
She looked at Akash, who was still smiling. Finally, she had met him, after so many years. Time had quickened the pace of life, but the love between brother and sister had grew even more. Though they had been far away from each other, mere sight of the other had filled the void of their hearts and strengthened their bond.
"I hate you so much," said Priya, with her face gleaming with tears, and lips curving into a smile.
"Same here!" Akash stared at his rakhi with affection, and winked at her.
Credits
© Story by Manas Madrecha

Manas Madrecha is an Indian poet, author, and Chartered Accountant based in Mumbai, India.