Hindi Poem on Satya - Truth is above everything
Why do we justify our habit of telling lies when deep inside our heart, our guilty conscience screams out in protest? This Hindi poem on Truth explains its importance.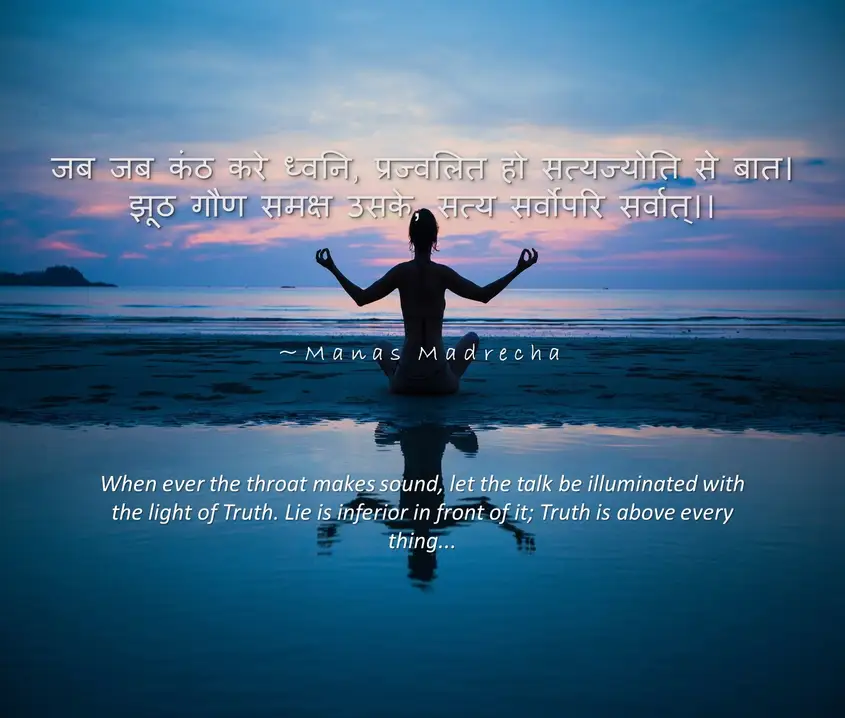 Under the pretext of being practical or sometimes to simply avoid deserving punishments, we justify our habit of telling lies. However, irrespective of that, deep inside our heart, our guilty conscience screams out in protest. Following is a Hindi poem on Truth by Manas Madrecha, that narrates the significance, use and advantages of resorting to Truth.
Original Poem:
सत्य सर्वोपरि सर्वात्
झूठ बोलना हुआ आम पर, महिमा सत्य की कम ना आंकना।
भीतर की नैतिकता 'मानस', अंतःकरण के नयन से झांकना।।
मन-वाणी की अखंडता को विभक्त होने न देना।
झूठ पे अवलंबित हो 'मानस', निष्ठा खोने न देना॥
कपट आचरण को अपनाकर, आर्थिक सुख ही पाओगे।
सबल चरित्र बना लो 'मानस', नित्यानंद तक जाओगे।।
गर सदा सत्य वाणी पर 'मानस', वचन-शक्ति सिद्ध होगी।
मुख से उपजी शब्दावली, वास्तव में संघटित होगी।।
अभिसंधि का कर प्रयोग 'मानस', लोगो को जो भ्रमित करे।
तो उनकी नहीं, तुम्हारी मिथ्या, आत्म को ही जो दूषित करे।।
जब जब कंठ करे ध्वनि, प्रज्वलित हो सत्यज्योति से बात।
झूठ गौण समक्ष 'मानस', सत्य सर्वोपरि सर्वात्।।
© मानस मादरेचा की हिंदी कविता
Transliteration into English:
Satya Sarvopari Sarvaat
Read Poem Transliteration

Jhoot bolna huaa aam par, mahimaa satya ki kam naa aanknaa,
Bheetar ki naitiktaa 'Manas', antah karan ke nayan se jhaank naa…

Man-vani ki akhandta, vibhakt ho ne naa denaa,
Jhoot pe 'Manas' avalambit ho, swa-nistha khone naa denaa…

Kapat aacharan ko apnakar, aarthik sukh hi paaoge,
Sabal charitra banaa lo 'Manas', nityaanand tak jaaoge…

Vani par sadaa satya 'Manas', toh vachan shakti siddh hogi,
Mukh se upji shabdaavali, vaastav mein sanghatit hogi…

Abhisandhi ka gar karo prayog, logo ko jo bhramit kare,
Toh unki nahi, tumhaari mithya, aatm ko hi jo dooshit kare…

Jab jab kanth kare dhwani, prajwalit ho satyajyoti se har baat,
Jhoot gaun samaksh uske, satya sarvopari sarvaat…
© Manas Madrecha ki Hindi Kavita
Translation in English
Truth is above every thing
Speaking lies have become common, but do not underestimate Truth's nobility.
Through the eyes of conscience, do look in your inner morality…
Do not let the integrity of Mind and Speech be dissected.
By adhering onto fallacy, do not let your self morale be lost…
By embracing fraudulent behavior, you will only get monetary pleasure.
Build a brawny (strong) Character, and you'll walk towards Eternal Happiness…
If Truth inheres in one's Speech, the power of oratory will become effectual.
Wordings that comes from the mouth, will actualize into Reality…
If you do use deceit, that misapprehends the people. then the falsehood isn't theirs, but yours, for it pollutes your own self…
When ever the larynx makes sound, let every talk be illuminated with the light of Truth.
Lie is inferior in front of it, as Truth is above every thing…
© Hindi Poem by Manas Madrecha

Manas Madrecha is an Indian poet, author, and Chartered Accountant based in Mumbai, India.